Our first stop in Peru was Puno, a lugubrious medium-sized town but it did grow on us. The main reason we stopped here was to explore some of the Peruvian islands of Lake Titicaca, the Islas Flotantes and Isla Taquile.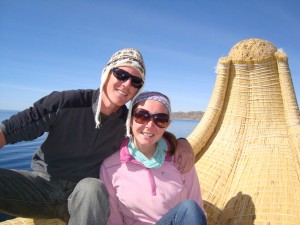 Our -excrutiatingly slow- boat left Puno harbour and crept its way inexorably towards the Islas Flotantes of the Uros people. These floating islands are tethered amongst 150km of reed-land off the Peruvian shore, number about 50, comprise some 3000 inhabitants, 3 schools and even a hospital. Each island is home to up to 10 families and is made entirely of tutora reeds. These reeds are muy importante to the Uros people; not only do they make up the ground on which they live, the roots are eaten, the flowers brewed into tea, they are traded – along with fish, another abundant Uros commodity – for potatoes and alpaka wool in nearby markets, used to build huts and boats, have medicinal purposes, are twisted into handicrafts to flog to tourists, the list goes on!
We visited an island of nine families and were greeted with a handshake and an Aymaran (pre-Incan language, which the Uros still speak) pleasantry from each of the inhabitants before being given a demonstration on how the islands are constructed – they have a base of buoyant mud and an upper layer of reeds some 3-metres deep and are tied to wooden poles plunged into the lake bed to prevent them drifting off – and some of the complexities of floating-island life – waste management for instance, and how they avoid burning down their whole world when cooking. Then we were encouraged to buy some of the – admittedly very good – handicrafts before being taken for a spin in a reed-boat, that was redolent of a Viking longboat, whilst a small girl serenaded us with Aymaran ditties. Finally we were invited to look round the dwellings. It was fascinating. One industrious chap had even hooked up a TV to a solar panel and was busily engrossed in a football match!
Afterwards we went to Isla Taquile, an island of the more typical sort (i.e. not floating) where everybody wears the same clothes and social standing is depicted by the colour of the hat one wears. We climbed to the tip of the island to find a busy town square, then had lunch at a table with such a view that it was awarded the not-to-be-sniffed-at accolade of Best Place We've Ever Had Lunch!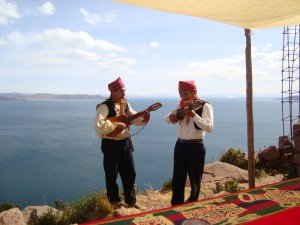 After the boat trip back to Puno – which could have been shorter if we´d swam doggy-paddle! – we tried to book our ticket to Cuzco, and Macchu Picchu. We weren´t even shocked when they told us there was a road block (they really do erect blockades at the drop of a hat out here, and protesting is a national sport. Greenpeace could learn a lot from these people) on the Puno-Cuzco road. There was a way to get there, a circuitous route that took more than twice as long – 13 hours instead of 5 – and of course cost twice as much.
The bus rattled and bounced its way along a see-sawing mountain track that was probably more intended for goats than a double decker bus. At one point we had to get out and push when the bus got stuck in a divot and at another, amidst much excitement and shouting, we were forced to pay 1 sole each and were frogmarched in pitch black darkness down a hill to a rickety bridge and a scene of mayhem. Queues of buses, cars and lorries were roaring and honking away at either side of the bridge which, unused to the additional traffic foisted upon it by the inconsiderate protesters, had splintered in the middle. Locals were doing their best to get everyone across by feeding planks of wood under the wheels of the vehicles! We had to stop for about an hour but eventually our bus got through and we carried on to Cuzco.