Hanoi is the capital of Vietnam and the resting place of her best loved celebrity, Ho Chi Minh (he's everywhere out here – on every single bank note.). We were kind of ambivalent about Hanoi, it's an interesting enough city but is noisy, grimy and – worst of all – the weather was awful. (First time we've had to wear trousers since Hong Kong, can you imagine?)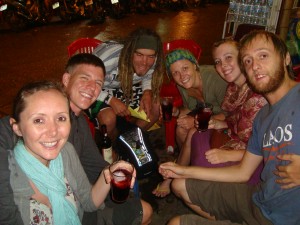 We stayed in the Old Quarter, a warren of narrow market streets chock-full of scooters (we found out from a local that there are 20 million scooters in Vietnam!). The noise is deafening, a cacophony of horns and engines, and you have to weave throughout the traffic along the road because the pavements double up as scooter parks.
Once out of the Old Quarter the roads widen into rangy boulevards of magnificent French architecture. We visited the Temple of Literature – a remarkable 12 Century building that was the first Vietnamese university – and we went to Ho Chi Minh's mausoleum. That was an experience that we won't forget in a hurry – you're not allowed to wear shorts or vest tops, bring cameras, talk or even laugh, and the rules are strictly enforced. Each day hundreds of people are arranged in twos and file past the great man's dead body laying serenely in state, perfectly preserved. Apparently he requested to be cremated, and the old communist might be interested to know that as soon as you exit his tomb there are people trying to sell everything from T-shirts to ice-cream!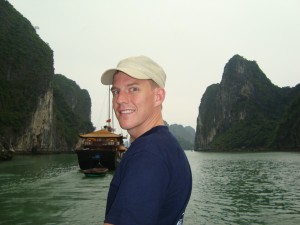 We also did a day trip to Ha Long bay, another treasured Vietnamese landmark and one of the 7 modern wonders of the world. This was one of the main reasons we came to 'Nam and it should have been - would have been – spectacular, breathtaking even. Unfortunately the weather conspired against us. It was cold, misty…and pissing down! As our boat pulled out of the harbour we could scarcely make out the outline of the 1969 giant rocks that rise out of the South China Sea like giant teeth. Once we got over the disappointment of the conditions and got up close to some of the rocks it was still amazing – they reach hundreds of feet up like so many ancient mossy tree-trunks, and floating villages are dotted amongst them. They took us to a huge cave where stalactites hung like prehistoric squid from the roof. It was worth the trip but just a shame we didn't go on a clear day. Ah well, can't win 'em all.
That evening we had a fun night out in Hanoi to mark our last evening with our travelling buddies Tom & Fiona (it's been five weeks together!) and our new-found Ozzie friends, Michelle & Killer (he's not really a killer, a really nice bloke really). We spent our last day recovering from the monumental drinkathon.
Back to Thailand now to our least favourite place in the whole world – Bangkok (gulp).