Ah Sihanoukville…Probably our favourite place yet. Located on the South coast of Cambodia (the first coast we've reached), it's primarily a party town. We arrived late on the first day and headed straight down to the beach to see kilometres of neon bars and restaurants booming music, fireworks, Happy Hours and free shots, barbecues, fire jugglers and hordes of people, mainly Cambodians celebrating National Woman's Day (or something like that which had the inevitable effect of pushing up room prices.)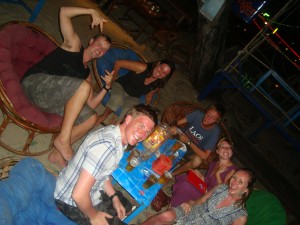 So we had two nights of debauchery, taking full advantage of the Happy Hour beers (at about 15p you can't really afford not to!) and cheap cocktails, and dancing to cheesy europop.
The only problem was that, due to the nightly festivities, by day the beach was not so nice; and was swarming with people – kids mainly – trying to flog us various things that we really didn't need (after telling them No for the fifth or sixth time it starts to grate.) So, on the advice of someone that we'd met fleetingly some two weeks previously, we packed up all our worldly belongings (which conveniently fit in a back-pack) and took a boat taxi to Ottres Beach, 5k down the coast.
Ottres Beach was as close to paradise as we're ever likely to get. We stayed in a bungalow literally 20 yards from the sea, and by day relaxed on the pristine white beach and swam in the unbelievably warm crystalline blue water. It was so secluded (largely because it doesn't feature in the Lonely Planet guidebook) that our friends and us were pretty much alone on the beach. One unexpected bonus was the sunset: unreal.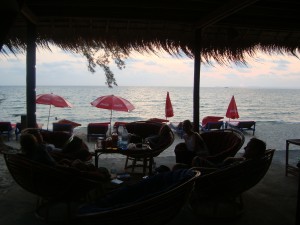 Apparently the bamboo bars, restaurants and guest houses which adorn the beach front are all earmarked for destruction within 2 years, and the big hotel chains are moving in. So we feel incredibly lucky to have experienced this amazing beach as it is now. We only planned to spend 2 nights in Sihanoukville, but we're still here a week later!
We've sufficiently recharged our batteries to tackle the next country on our itinerary…Vietnam! Bus to Ho Chi Minh City (previously Saigon) tomorrow morning, a mere 12 hours.