In the interests of balanced reporting, we must relate this little anecdote in order to show that this travelling lark is not all a bed of roses: We had planned to fly from Hanoi to Bangkok, get on a train down to the South of Thailand and from there board a ferry to Koh Tao, one of the Thai islands. It started off well; taxi to the airport at Hanoi, flight left on time, landed early, we picked up a bus to the train station – no problems. It started going downhill when we were told that all the trains were fully booked. Rather than spend a night in Bangkok we opted for a 10-hour bus journey, followed by a 3-hour wait in a 'waiting room' (which was literally just that – a room), then a 2-hour wait at the ferry pier and finally a 3-hour ferry journey. Things started becoming dreadful when I was violently sick 15 minutes before the bus left. I then spent the entire journey in agony, camped out next to whatever toilet I could find, with various fluids pouring out of me. By the time we arrived in Koh Tao, 27 hours after we had left Hanoi, I felt like I'd puked myself inside out.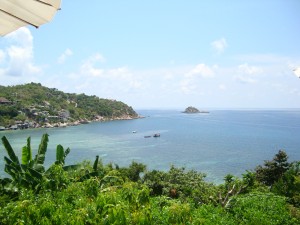 Anyway, after a day in bed we were ready to explore Koh Tao. Originally we'd planned to go island hopping over two or three islands but Koh Tao charmed us so much that we ended up staying 6 nights.
It's known as Turtle Island because of a giant palm tree-covered hump which slopes like a giant turtle shell over the centre of the island. The place has been very much modernised (read Westernised) but done in such a tasteful way that it complements its natural beauty. And what natural beauty – prone longboats bob in a placid turquoise sea that laps at a beach of powdery white sand; restaurants light up the beach by night, with barbecues and, of course, happy hours aplenty; further back, narrow walking streets are home to expensive guest houses and bars and restaurants, some of which wouldn't look out of place in the West End. Unfortunately the prices wouldn't be out of place in the West End either! It is exorbitantly expensive here, that's the only down side.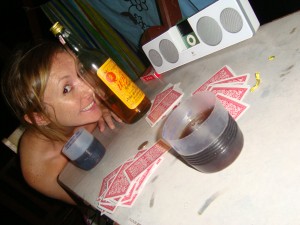 We managed to find a wooden bungalow for 6 pounds a night, which is bleedin' miraculous given the price of most of them! It didn't have its own beach, so we nonchalantly marched down to the resort next door and staked our claim on their sunbeds and hammocks, glaring at the honeymooners who looked at us suspiciously! At night we drunk cheap rum & coke and played cards, and we found a restaurant that was much cheaper (and therefore busier) than anywhere else. In this way we kept our expenses down.
Everyone here seemingly hires out a motorbike or some sort of off-road vehicle so we thought we'd give that a go too. One day we got a gleaming new scooter and another we got a clapped out old dirt bike that we had to take back, but not before filling it with petrol!
Tonight though, it's back on the road (or sea). We've got an overnight trip on a cargo boat to Surat Thani, on the Thai mainland, followed by a trifling 9 hour bus ride to Butterworth in Malaysia where we'll stay overnight before making our way to Kuala Lumpur. Let's hope this journey is not as bad as the last.