Kuala Lumpur, or KL (they love abbreviating things out here, one bloke I sat next to on the bus insisted he supported MU) is a big, clean, efficient, but above all wet city – at least it was when we were there! Its population, along with the rest of Malaysia, is made up of a curious ethnic and religious blend of Malays, Indians, Chinese, Muslims, Hindus, Buddhists and Christians. This makes for an interesting mix of language, cuisine and architecture.
As we had very little time in Kuala Lumpur, we sorted out a room after arriving on the bus and immediately went out sight-seeing to the Batu Caves. The Batu Caves are Hindu-worshipped naturally formed caves that are a 12k bus ride out of town. We got off the bus into a full-blown monsoon! Even after living in England all these years we'd never seen rain like that. Lightning crackled through the air and thunder peeled and clapped off the enormous limestone cliffs in which the caves are housed. In seconds we were soaked through, in minutes the car park we were standing in had turned into a foot-deep lake of water swimming with, amongst other things, people's flip-flops and shoes! (you have to take your shoes off when entering a temple)
In these conditions we climbed the 272 steps to the huge opening of the caves. There was some sort of Hindu ceremony going on inside which lent the caves an echoey religiousity and statues of the – many – Hindu gods stared at us from within. We were told there would be monkeys wandering around and were a bit put out that none were to be seen. However, as soon as we came out the rain – typically – abated. And then the monkeys descended! about 2 dozen emerged from the trees and began climbing the steps, stealing things from tourists, and growling at Amy!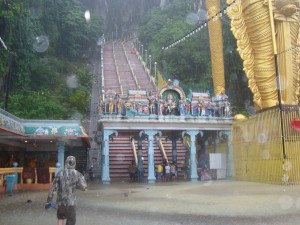 The next day we wandered around the city, first to the Petronas towers – the tallest in the world until 2004 – and then to the KL tower; which we were about to ascend when – you guessed it – it started monsooning again!
We got the overnight train to Singapore which would have been a most comfortable train journey if it wasn't for a Japanese and an Indian guy discussing the vagaries of the world economy – very loudly – into the small hours.
Unfortunately we didn't have enough time in Malaysia; we only had 5 days to travel all the way from Thailand to Singapore. On the way we stopped in Georgetown, on an island called Penang. It was a world heritage site but we didn't have any free time to explore, we literally just slept and left. The country has a lot to offer, and may be one to come back to in the future.