We landed at Changi, the world's best airport, in typical hassle-free fashion, took a free mint from the smiling immigration officials, grabbed our already carouselling luggage, and jumped in an air-con'd taxi. We had flown down here to see our friend Becs, who has been living and working as a lawyer in Singapore for almost 2 years. The taxi had a meter, there were traffic lights, road markings, no cows or motorbikes, everything spotlessly clean – in short, a completely different world from the one we'd just flown from and by the time we pulled up at the stylish apartment block we were on cloud nine.
Becs' apartment is unbelievable. Like the best hotel we've ever stayed in, and its not even a hotel. There are two bathrooms, two balconies, an infinity swimming pool, two gyms, all lavishly finished and sparkling clean. We had to remind ourselves how to use a toaster and kettle, and to wash up after ourselves (you'd never believe you could miss washing up, but you can!)

We spent a day or two in Singapore during our last trip in 2009 and dismissed it as just another Asian city. But there's more going on here, and this time we saw a different side to the place. Singapore is held up as a shining example of how developing countries should, well, develop. Over the last 50 years or so an autocratic government has almost militantly stamped out any aspects of society they deemed undesirable, and enticed business and investment with appealing tax rates and facilities. So hand-crafted and well manicured is the city state that any character it may have once had has been smothered beneath this utopian veneer and instead there is the feel of a giant conference centre, a playground for well-to-do Europeans and Australians to come and enjoy the infinitesimal tax rates.
But, whatever it may lack in charm, it more than makes up for in swankiness. There is a certain proud new world magnificence about the place, particularly at night when the skyscrapers twinkle and the upmarket hotels glow, and the restaurants and bars are packed with yammering Westerners. Almost immediately we shed our backpacker skin and tried to fit in with the expat elite. It was amazing, especially given where we've been for the last 6 months, to drink nice wine, pints of ale, eat delicious food in plush surroundings, take taxis everywhere, and pay for it all by card! We had a great budget-be-damned time and it was lovely catching up with our old mate Becs…with whom we also embarked on a little holiday to the Indonesian island of Sumatra.
Our decision to visit Sumatra rested largely on the fact that it was one of the very few places in SE Asia which was not in monsoon season at this time of year. It was a risk as Sumatra is a place which, for one reason or another, has fallen out of favour with the backpacking hoi-polloi and we'd not found even one other traveler who'd been there. Our first stop was Lake Toba, the largest volcanic lake in the world and one which encompasses Samosir, an island the size of Singapore and home to the native Batak people; warm, musical and, until relatively recently, cannibalistic.
Diving-boards jut out from the many lakeside resorts over the dark blue waves, sunlight glinting off their crests; the water is clean and clear and tastes like Evian. The island is a bit like somebody's happy acid dream – many-coloured huts with pointed roofs the shape of a ship's keel nestle amongst trees of various type and shades of green, bustling in the breeze, as cute as the glut of puppies, buffallo calves and baby chicks that roam about. In fact the acid theory may have legs, as magic mushrooms are listed flagrantly on the menus of the restaurants and guest-houses! There are few tourists (though it's hard to see why) but the town hasn't let itself go; everything is spick-and-span, the shelves are well stocked, the lights are all on. In fact it feels like they are anticipating a bus-load at any moment. We spent a delightful four nights on this beautiful island.
Next up was Bukit Lawang, a tourist town erected along the banks of the Bahorok River, and a base for exploring the Gunung Leuser National Park, where one can see – if one is lucky – the endangered Sumatran Orangutan in the wild. We stayed at the Back to Nature resort, located in the jungle, a 45 minute walk from town and only accessible by traversing not one but two rope drawn cable cars, pulled by a man at each end. We only had two full days so we quickly signed up for a jungle trek for the second day.
That left an afternoon free. "I can take you to a waterfall?" suggested our guide. I was concerned that this might cut into my hammock and beer time but he said it would only take half an hour so we agreed. The route was a little tougher than we were perhaps led to believe – clambering over slimy rocks and forging through overgrown jungle track, and 3 crossings of the very fast-flowing river – but we got there in about an hour. Just, in fact, as the first grumblings of thunder became audible in the distance. Our guide was looking a bit disconcerted at this and we all agreed we should probably head back. But all too quickly the weather changed. Lightning raked and crackled into the jungle, trees crashed, thunder pealed and rumbled and rain lashed down around us. The river was gaining in strength. More guides appeared from somewhere (one, for reasons not quite fully explained, in just his underpants) and we were completely in their hands. There was definitely an air of panic as the guides struggled to get us across the river (thrice) and back to our guest house. I fell down a waterfall, but was OK. Amy fell too, but luckily the man in underpants caught her. We made the river crossings with not a moment to spare as the river became a brown, raging torrent and crossing again would've been out of the question. Full credit to the guides, they got us all back in one piece, only slightly bruised, and we were able to laugh about it all over a few bottles of Bintang.
So, next day was our jungle trek. This was proper jungle; creeper vines strangulating skyscraper trunks, liana vines hanging like rope (great for Tarzan impressions), the smell of damp leaves and the howling of gibbons in the air. Our guide had made it clear that seeing an Orangutan was not guaranteed, some people can go on a 3 day trek and still not see one. We saw ants the size of small mice, wild boar prints and friendly Thomas Leaf monkeys with black-and-white punk rocker hair cuts and tails hanging pendulously, but what of the illusive Orangutans?
Eleven. We saw eleven of them. The first, an adolescent, swung into view like a hairy ginger gymnast, and we were awe-struck; the rest were mainly females with their young, observing us and trying to discern if we had any food. One descended from the trees and began advancing after us, walking on her musly forearms. She was more curious than malicious but we flung some fruit and scarpered. It really was just incredible to see these beasts, sometimes only a few feet away, in their natural habitat, while the sunlight strobed through the jungle canopy. A memory to treasure indeed.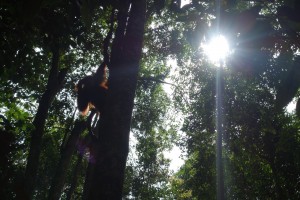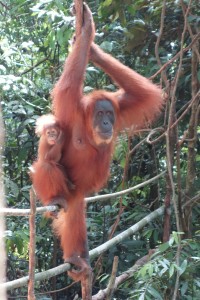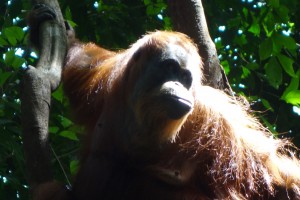 Back to Singapore then, for a night. Went to the cinema. Got up, took breakfast on the balcony, went to the airport. From now on in we are edging ever closer to home; first stop Istanbul, after a 13 hour stop-over in Jeddah airport. Sounds like fun!