We had a 2-night stopover in the Chilean capital before our flight to Bolivia. Santiago is an interesting enough city and – due to its being one of the more developed of the Andean countries – a good way to ease ourselves into South America; though it was still a culture shock to land in a city where nobody speaks English, thick smog hangs lazily in the air and the temperature is somewhat cooler than we´d been used to…
Dazed and confused after our 17-hour flight, the first thing we did was to find a bar where we could watch the Champions League final with Ian, a guy we met on the plane. It wasn´t difficult, it was being shown absolutely everywhere, even the street traders had it on small portable TVs! After sinking some pasceñas (Bolivian beers) we headed doggedly back to the hostel for a 15-hour sleep.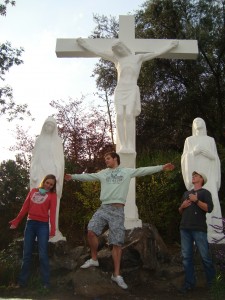 The next day we met up again with Ian and went on a walking tour around the city. Santiago is a city of neo-classical and Spanish colonial architecture, wide plazas adorned with intruiging statues, placarded left-wing protesters, bohemian cafes and art galleries, and some of the most ingenious buskers that we´ve come across (like the one-man-band that jumps in front of traffic when the lights change).
We took a funicular railway to the summit of Cerro San Cristobal, where a statue of the 'virgin' Mary watches out over the city. The postcard picture of Santiago is the view from up here – the huge city sprawled out beneath with the white-tipped Andes in the distance. Unfortunately the smog completely obscured the mountains (and half of the city) but it was impressive nonetheless. Dwarfing the 14-metre statue are two less attractive telephone masts which, along with the insidious smog, typify Chile's rapacious attitude to its own development. Apparently there are plans afoot to move an entire glacier just to mine below it!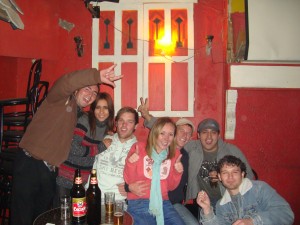 On the way back to our hostel we found a bar in Barrio Brasil (the bohemian quarter) which sold a litre of beer for about one pound. We were only supposed to stay for one drink due to our 3am airport pickup but, like the idiots we are, we stayed for hours drinking and trying to communicate with the locals in our – very – limited Spanish. I lost around 50-quid, dropped the camera and we rolled home just before midnight. Not our finest hour! Still, we managed to wake up a few hours later for our flight to La Paz, Bolivia.