On our final day in Byron Bay the weather took a turn for the worse, the much worse. Australia has seen some of its worst floods in the last decade over the past few days. On the plus side, it spelt the end of a severe drought they've been experiencing; but that was scant consolation to us as we sat huddled in our 'van listening to the rain pinging off of the roof.
In a country completely geared up for outdoor activities the rain can become somewhat of a hindrance so we decided to head down to Sydney in order that at least we could find something to do. We waved goodbye to Becky, who was travelling back to Bris-vegas (which, unbeknown to her, was to be where the weather was at it's most horrendous!) and drove the 800-or-so kilometres South, stopping overnight on the roadside.
Unwilling to relinquish our campervan adventure, we decided on one final foray inland, to the Blue Mountains. We stayed in an odd little town called Katoomba which must have more second-hand book, antique and bric-a-brac stores per capita than anywhere else in Australia. The Blue Mountains are described as New South Wales' most attractive national park. Unfortunately we can't really comment on that because when we arrived at Echo Point – the best vantage point to see unique rock formations of the Blue Mountains – the fog was so bad that visibility was down to about 10 yards. Our interest was piqued though, and we came back the next day…to more fog. This time we were granted a brief glimpse and what we saw was indeed magnificent, and on a clear day must be astounding.
The next day we had to give the campervan back which, as is often the case, was when we realised how much we'd become attached to the old rustwagon! It was quite a sad moment. But we soon got over it and checked into a hostel in the district of Kings Cross, which is – if such a thing can be imagined! – like a seedier version of its London counterpart, but is within walking distance of all the city's major attractions.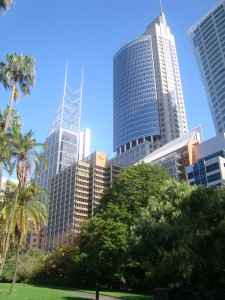 On our first night we met up with one of Amy's friends, Lauren, who had emigrated from London about 5 years ago. We had a great night out with her and she invited us to come out on her yacht on the following Sunday. We didn't realise at the time, but we has just unwittingly joined a yacht racing team! Okay we were only used as human ballast, and every time the skipper yelled 'tack' or 'jibe' (sailing terms, you wouldn't understand) we had to rush frantically to the other side of the boat to balance it out. The race was a real spectacle though; the tilted masts and billowed colourful main-sails of hundreds of yachts cutting gracefully and noiselessly through the water, with sea planes circling above, the odd ferry or small cruise ship, and all against the striking Sydney skyline, the Harbour Bridge and the Opera House, which itself looks like a number of sails caught full in the wind. We ended up coming third out of our division of twelve, and went for a few drinks in the sailing club afterwards.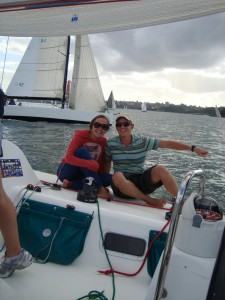 The rest of our time in Sydney we spent wandering round the city taking in the sights. We walked across the giant meccano structure of the Harbour Bridge, saw the Opera House, strolled between the aboriginal buskers and smart cafes of the Circular Quays, through the pristine Royal Botanic Gardens beneath hordes of hanging bats in the trees; we came third in a pub quiz, visited the aquarium, took a bus ride to Bondi Beach, a beach within the city that 35,000 people flock to on a hot summer's day, even went to a photography exhibition in the library (initially because it was free and out of the rain, but it turned out to be excellent!). Sydney is a marvellous city and has been a perfect ending to the Australian leg of our trip.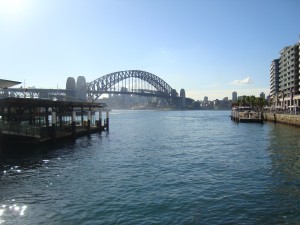 Our time in Australia has been absolutely terrific, it was great to meet up with old friends, and the campervan adventure was just that: an adventure. An adventure through some of the most magical landscape on the planet. It truly does have something mystical and ancient about it; you almost fancy you can see dinosaurs rearing their heads on the distant hills. This is a place that we will definitely be coming back to – we've barely even scratched the surface – and would recommend in a flash to anybody.
South America is next on the agenda – we have a 17-hour flight to Santiago, Chile tomorrow morning. Better brush up on our Spanish!