Landing at La Paz, the world´s highest capital city jet-lagged, hungover, and short of breath was not much fun. As soon as we stepped off of the plane we both felt instantly faint and dizzy, a feeling which took a good few days to shake.
Even through the altitude-giddiness we could not fail to be impressed by our first view of La Paz. It was the most singularly beautiful city we´d ever seen. There were no high rise towers or famous bridges, but rather thousands upon thousands of tiny cuboid buildings sprayed throughout a valley and up the side of a canyon, as if carved out of the brown mountain itself. The sky was bright blue and the background played host to the magnificent white peaks of the Andes. We both mouthed 'wow' to eachother, which was about as much as we could manage at the time!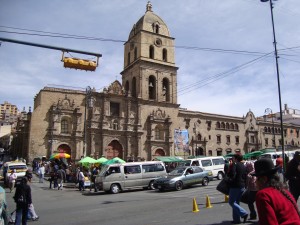 As we delved deeper into the valley though, we found that it wasn´t quite so quaint as it first looked. Still completely unlike any other place we´d seen, but rubble-strewn walkways, grubby walls and politico-graffitti somewhat tarnished the narrow streets that slope down towards the hubbub of the city centre where hundreds of colourful market stalls hug the steep pavement – which in places is barely wide enough for one person and takes the form of steps – selling every conceivable item, from empanadas (little pasties) to sink-plugs, notepads to wolly hats. If you look up in one direction you can see the tiny cuboid houses arrayed haphazardly up the canyon-side and in the other direction the rugged white Mt Illamani, which stands sentinel-like in the distance.
La Paz is a thronging city. Thronging with people, with old ladies in traditional garb of billowing dresses, technicolour ponchos and curious bowler hats; thronging with taxis and the – truly ubiquitous – minibuses which constitute the public transport system, out of which people hang, chanting the bus' destination like an incantation; thronging with armed police*, thieves and pick-pockets, with balaclava'd shoe shiners, with political protesters that let off gun-shots to punctuate their demands; it's boiling hot and freezing cold at the same time, there's always an air of danger and a continuous cacophonous babble; you can buy a 2-course meal for under a pound, or go mountain biking down the most dangerous road in the world. A truly insane place, with insane night life to match!
(*Amy got pretty much chased away by a rifle-toting policeman when she decided to take a photo of San Pedro prison, the most corrupt prison in the world – where inmates literally have to buy there own cell and cocaine is produced deep within!)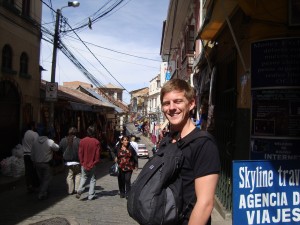 At first, on the recommendation of an Irish guy we met in Sydney, we stayed in hostel called Loki. We didn't know it, but Loki seems to be the party capital of La Paz. One night – our sleep pattern still utterly out of kilter – we went down to the bar for dinner and a couple of drinks to help send us to sleep. We got chatting to a few people, one thing led to another, and the next thing we knew we were in an underground nightclub where they deliberately block out all daylight…8am we got in.
Probably just as well, but Loki turfed us out the next day because someone had booked our room. We checked into another – quieter – hostel and have spent the last two days recovering.
We had planned to take a 3-day trip to the Uyuni Salt Flats, which are about 18-hours south and the main reason we decided to come to Bolivia. Unfortunately, in true South American fashion, the Bolivian miners have erected a mass road and rail block in protest against something-or-other (nobody really seems to know what!) and we´ve been stuck in La Paz ever since. Whilst there are worst places in the world to be stuck, there's not that much to do without drinking, so we've booked an overnight bus to Potosi which is at least somewhere different and is nearer to the salt flats should the road block be lifted.