After a day spent travelling on American Airlines, the unequivocally worst airline in the world where the planes look like they've been borrowed from the 1980′s, there is a bewildering choice of 1 film and they don't even bother to feed you on a 7-hour flight, we landed in Los Angeles. It was night-time as we descended, and the endless grid of the city was laid out like a carpet of stars beneath us. We took the free shuttle bus to our executive suite at the Holiday Inn. This was more like it – marbelled bathroom, panoramic window, and the biggest bed you've ever seen! Regrettably we only had one night there before picking up our rental car the following morning.
Windows down, stereo up, it felt so, well, cool to be cruising down the sun-drenched avenues and boulevards of movie and music – Sunset Boulevard, Santa Monica, Beverly Hills, Bel Air, Compton, Hollywood – and the radio stations all play the perfect accompanying soundtrack – from Curtis Mayfield and Al Green to West Coast Hip-Hop and the Chilli Peppers. Until that is, you hit traffic, when it becomes unbearable. In fact that pretty much sums up LA – great when you're not stuck in traffic, your own personal hell when you are! In the two days we spent their we were in the car for perhaps 12 hours.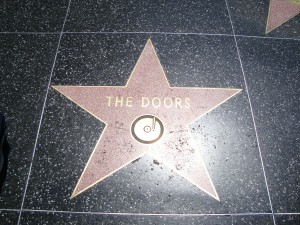 We did the tourist thing; walked over the stars lining Hollywood Boulevard and the imprinted hands and scribbles outside the Chinese Theatre; tried to find the Hollywood sign but ended up getting hopelessly lost and, ineluctubaly, stuck in traffic. We camped at Malibu beach and, it being a weekend and the eve of the 4th of July, it cost us $4 more to pitch our two-man tent than our executive suite at the Holiday Inn! To quote a banal Americanism – Go figure! To be fair, it did come with a mountainside view of the Pacific Ocean…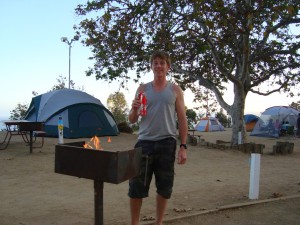 Next day we drove 300 miles to Las Vegas along the straight, shimmering freeway, through the lifeless Mojave desert, where we half expected balls of tumbleweed to roll past. We knew we were in Nevada when gaudy pockets of casinos and brothels started to appear like mirages. Tyres, exploded due to the tremendous heat, littered the roadside and we even had to swerve violently to avoid the car in front when one of their's burst! After a few hours of seemingly endless freeway, suddenly, rising out of the sand like a glittering oasis, there it was – Sin City.
Vegas doesn't disappoint. It's everything you expect it to be – a gleaming decadent edifice, with each building dedicated to some sort of vice; mainly, of course, gambling. The big casinos tower imperiously along the main strip – the opulent Bellagio, impressive New York New York (complete with rollercoaster), renaissance-inspired Venetian (where you can take a gondola trip down engineered canals) or the pyramid-shaped Luxor being just a few. Also, the old strip, Tropicana Avenue, the downtown area, just about everywhere has smaller, seedier casinos. And they're so unapologetic: huge signs unashamedly urge people to 'double your paycheque' as if it's a dead cert. Even though we knew it was legal here we were still shocked to see prostitutes advertised on giant bill-boards and call-cards litter the street like confetti. Drink and food offers abound, anything to get you in the casino and to a gambling table.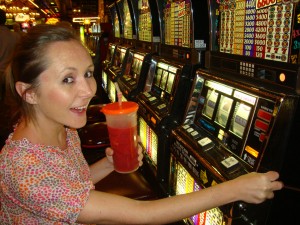 We stayed for three nights in a Tropicana Av casino that cost just $8 a night and even had a pool, which came in handy in the 110 degree heat(!) before heading to the Grand Canyon.
The Grand Canyon is about a 4-hour drive from Vegas, over the Hoover Dam and into Arizona. We stayed just outside the Grand Canyon National Park in a peaceful campsite carpeted with pine needles, in the Kaibab Forest, . Each day we took the shuttle bus that the US National Parks Service thoughtfully lays on to get tourists in and around the park.
The GC is truly a wonder of nature; a huge chasm rent out of the American continent with brilliant-red ridges and numerous pyramidal rock formations, all perfectly layered, with each geological stripe embossed by shadow so that the overall effect is as if someone has dragged a paintbrush across the scene. The top and bottom is speckled with green shrubs and the brown Colorado river cuts its way along the base. At sunset, when each ridge is silhoutted against the one behind, the sky seems to absorb the red of the canyon, which itself melts into lighter reds, browns and greys, while the sun's dying rays play ancient shadow games deep within the gorge.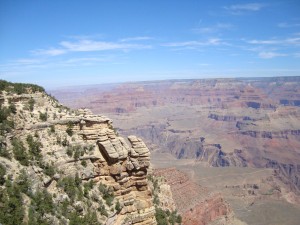 Next day saw us undertake the 700-odd mile drive to central California and the Sequoia National Park. After 12 hours – and a little 'directional deviation' – we happened across a great little campsite on the shore of a mountain lake encased by grassy peaks, Lake Kaweah. It reminded us of Lake Titicaca but with more RVs, jet-skis, speed boats, water skiiers and fishing boats – that's America for you! The sunset, when the smouldering red sky reflected in the lake, was simply sublime.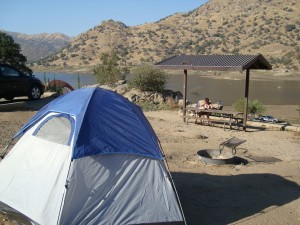 The following day we entered the park itself, drove along pristine roads through granite montains adorned with pine forests. The park is home to many giant sequoia trees. We parked up and walked through the Giant's Forest to the biggest tree in the world, General Sherman. Once we lost the crowds (by simply setting out on any trek over half a mile in length!) the forest became a magical and tranquil place, it was like walking through a fairy tale. The huge trees looked like the gnarled limbs of frozen giants; the shades of green, the fern and brush of the sun-dappled forest floor and the needles and lichen of the trees, contrasted brilliantly with the cloudless blue sky; oversize pine-combs were strewn around and streams of water trickled down the mountainside.
Similar to Sequoia was Yosemite National Park, which we left for after 2 nights. It is an enormous area of such compelling beauty – fast flowing rivers gurgling over rounded rocks, glaciers, pine forests, roaming deer and illusive bears can all be found within the park confines. We trekked along a river under the stern gaze of El Capitan – one of the biggest mountains in the world and a Disney Land for rock climbers – and his little brother Half Dome. The limestone bluffs were bejewelled with diaphanous waterfalls, like the aptly named Bridalveil Falls. Once again the crowds were out in force; people in cars, RVs, on foot, bicycles, boats and dinghys left it feeling a little like a giant Centre Parks. The park gets a well deserved 4 million visitors a year, and I think most of them were there on the same day as us!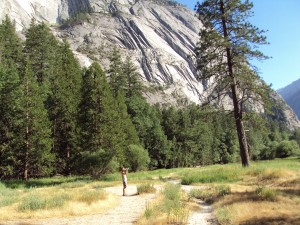 We met an American family in our campsite just outside the park who lent us their park pass (free entry for us!) and introduced us to Smores, a camping tradition out here – so called because you always want s'more! Amy has sworn me to secrecy as to exactly what they are – all will be revealed when we get home…!
Almost as an afterthought we then went to Big Sur, 90 miles of rugged Pacific coastline bohemianized by writers such as Jack Kerouac and Henry Miller, where the blue ocean is pounded white against dramatic headlands and sandy bays. Our campsite was so secluded that we had to lug our gear a quarter of a mile from the car. It was crawling with rampant wildlife – mostly subterranean. Shy moles would nervously peep about, wary of condors circling high above, and hundreds of furtive ground squirrels dove in and out of their underground warrens like seals coming up for air, or would stand watchfully on their hind legs like so many meerkats, waiting for that split second when your attention is diverted and they can make off with your food!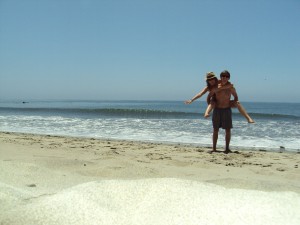 There was an English-style pub – which, oddly and pleasantly enough was owned by a West Ham fan and was decked out in club paraphernalia! – 3 miles away. On our last night, fed up with eating beans and pasta, we hitch-hiked there for fish 'n' chips and a pint of ale.
And there ended our little camping trip. We dropped the car off in San Francisco the next day…