We dropped off our car in San Francisco, a city famed for its hills, homosexuals, and homeless people. It is a quaintly picturesque city. Antique trams haul themselves up steep roads flanked by pastel coloured townhouses. Union Square, the spotless town centre, is brimming with upmarket department stores; colourful murals and entire streets are dedicated to Beat poets and revolutionary leaders; not one but two leviathan suspension bridges span the bay area, where the now defunct Alcatraz simmers malevolently and is encroached by the salty wharves of the docks and Ferry Building.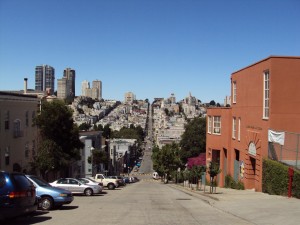 We took a nighttime stroll through the Tenderloin district, where the number of crack-heads and pimps, beggars and weirdos is simply frightening: talking to themselves, singing, or haranguing the cold night air. We also visited the Golden Gate Bridge which, as is typical for the time of year, was shrouded by mist (there is a strange micro-climate here whereby the bay area will be foggy and cold while the town centre still enjoys bright sunshine). It is an impressive structure that somehow – perhaps due to the striking red paint-job – manages to be more impressive than the seemingly longer Bay Bridge.
We only had a couple of nights in San Fran before flying to New York, our final destination…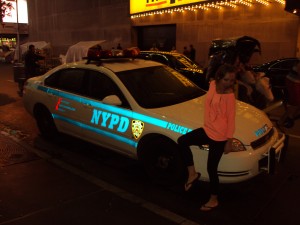 The first thing we noticed about New York, as our train from JFK rolled past red-and-brown-brick residential blocks, derelict warehouses and shabby subway stations, and as we had to shove our way – backpacks and all – on to a packed rush-hour carriage at Penn station, was that it was remarkably like London. That noisy, crowded, cramped feeling that blights – or graces, depending on your preference – our capital city that was missing from LA or San Fran. That was until the archetypal American architecture of Manhattan came into view – all squares and spires, evenly spaced rectangular windows, and zig-zagging fire escapes hanging from the side of brownstone apartment buildings.
We stayed in Harlem, a 6-bed dorm in a converted brownstone. On our first night we were privy to an annual block-party where African-American families cooked barbecues while their children played volleyball, basketball, skipped or ran under the stream of an erupting fire hydrant, and a DJ boomed out soul music. It felt very authentic.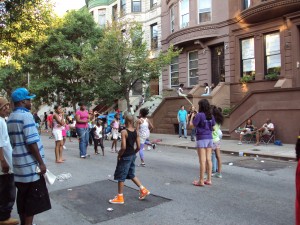 The next few days were spent exploring the marvellous city in the glorious sunshine. We went to the East Village, a funky area of Manhattan a bit like an understated Camden, had a drink in the bar with the well-known Joe Strummer mural painted on the outer wall, and had a tattoo done by a burly New Yorker; we visited Ground Zero, now just a building site but with a collage of sobering images and a timeline of the fateful tragedy on display; we gazed over the East River from Lower Manhattan at the Statue of Liberty, only just re-opened after security fears in the wake of 9/11. We hit the boutique shops of Soho, strolled between the imposing megaliths of midtown, beneath the looming incandescence of Times Square at night. We walked across the Brooklyn Bridge towards Lower Manhattan and the most famous skyline on the planet; had a meal in Little Italy, an area bedecked in red, green and white, where you hear the coolest accent on the planet, and the surly waiters really don't deserve the 20% tip they automatically add to your bill.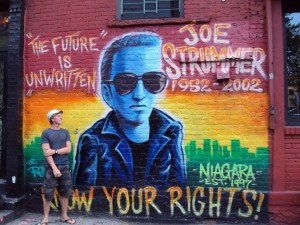 All in all, it was a superb four days, and New York has become our favourite city. A perfect way to end our trip…but end it must.
We've been back in England for a week now and are enjoying the drab, grey, overcast British summer. It's difficult, watching the spitting rain dampen the green, green grass, not to let our minds wander to those sunny days in Thailand or Laos, when our trip was young and our spirits high, we had all the time in the world; or to find ourselves in a campervan, hurtling down the Australian highway, without a care in the world apart from what to have for lunch. Suddenly we're in Peru, staring in utter amazement at the sun setting over Macchu Picchu , or basking in the Californian sun as a seal frolics in the blue Pacific Ocean before us. It's a sad but inevitable conclusion to any trip of this nature…
What really drummed it in was sitting at Stratford station waiting for a delayed train to Essex, when bilious clouds gathered over the doleful environs of East London and began firing watery pellets at us, as if to say 'Welcome home'!