Well, we never actually made it to Arequipa, even after forking out 70 soles (about double the ordinary price) for a 12-hour trip which was supposed to take us around the road block. The journey started badly when at the bus station I got chatting to an English lad who was the only other gringo on the bus. I unwittingly distracted his attention while a friendly local lifted his backpack, containing his passport, bank cards, everything! So I felt a little guilty about that…But then, after the bus had rattled and creaked for 10 hours into our journey we found that some pesky campesinos had erected an impromptu road block. Our brash attempts at moving the blockade were met with rocks, flung at us from slingshots! We had no choice but to head back to Cuzco. A complete waste of 20 hours!
Amidst much angry shouting from the other passengers we managed to swap our tickets for two to Huacachina.
Huacachina is an odd little town built around a lagoon in the middle of a desert, enclosed on all sides by enormous sand dunes. There are only two reasons why people go there – to party, and to sandboard.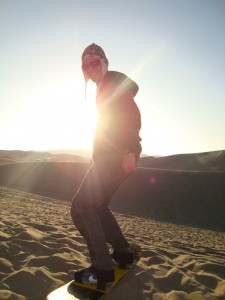 Sandboarding is, as the name suggests, when you stand or lay face down on a wooden board and whizz down the aforementioned enormous sand dunes. We were taken by dune buggy into the surrounding velveteen desert, which at first felt like a scene from Lawrence of Arabia until you noticed colonies of dune buggies, motorbikes, quad bikes and jeeps, when it felt more like a scene from Mad Max! The sandboarding itself was a bit tepid really, although you can build up some dangerous speed. What really made the day was ride in the dune buggy. Our driver, a chain-smoking maniac, derived particular pleasure from terrifying poor Amy as he zoomed up and down the dunes, sometimes getting all four wheels off of the ground in the process. He seemed to get even worse after the sun went down, when the only concession he made to the encroaching darkness was to cross himself before each looney stunt! He left his headlights off until we were back in the town, presumably to maximise Amy's horror.
Due to its renown as a party town, Huacachina is of course where you find the Brits. So we had a couple of heavy nights with our boozy compatriots before heading to Lima.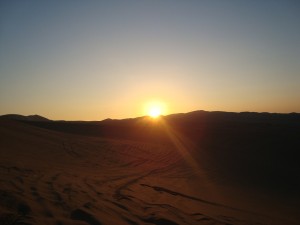 On the way to Lima we took a quick detour for 2-hour boat trip to the Islas Ballestas, described in the Lonely Planet as a poor man´s Galapagos islands. We weren´t expecting much but it turned out to be quite interesting. There is such a proliferation of birds there that the islands are farmed every 7th year for their droppings, which by that time have accumulated into a crust of half a metre or more. We have never seen so many birds: squawking, flapping and wheeling, darkening the sky or carpeting the islands, or divebombing into the sea for unsuspecting fish; we saw huge pelicans and waddling penguins, populous cormorans, circling vultures and countless others that we didn´t even recognise, and sea-lions flouncing clumsily over the craggy rocks or frolicking gracefully in the sea. A worthwhile detour before arriving at Lima.
Lima is a big, expensive, unappealing city where there is a dearth of anything much to do. Tomorrow morning we fly to the U S of A.
Our time in South America has been superb and is probably our favourite continent. It's so unlike anywhere else we've been; dangerous and challenging, with no shortage of outdoor pursuits, and the landscape is so unbelievable – bleak yet beautiful, barren and boulder-strewn, from vast salt flats to fecund jungle to Sarahan sand dunes, and with the austere white Andean peaks a permanent fixture in the background – that even on the endless bus journeys you don't tire of it. We've only been here a little over a month but have managed to fit so much in, with the trip to Macchu Picchu being the highlight of our world tour. Definitely a place we´ll be coming back to…