Well, what a week it´s been…
First off, Cuzco is our favourite city in South America. Not only is it prepossessingly pretty – the main square, the Plaza de Armas has two ornate time-weathered cathedrals and is bounded by gorgeous colonial arcades with colourful balconies; streets with original Incan walls topped by rendered colombian-era facades fan outwards from it and everywhere the rainbow-coloured Cusquenan flag – which looks alarmingly like the gay pride banner but predates it by around 500 years – is flown proudly. But there is also a boundless supply of activities available in the surrounding mountains: motorbiking, bungee jumping, white-water rafting, treks, mountain biking, horse riding, rock climbing, and of course the Inca trail.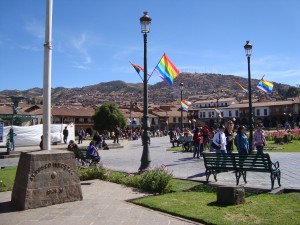 We opted for a 4-day trek and mountain bike ride culminating in a visit to Machu Picchu, the main reason we decided to come to South America in the first place.
On our first day we were driven to the summit of a mountain where two sparkling powdery-white Andean peaks were within touching distance before being given mountain bikes and told to descend the other side. We whizzed for three hours down a spiralling road of perfect tarmac through magnificent mountainous landscape. The mountain we were on formed part of a staggered valley, the Sacred Valley infact, with the Rio Urubamba winding a frothy path along its base. After one hour off-road biking we reached our destination, the remains of an old Incan customs house. We had gone from freezing mountain peak to temperate tropical rainforest in a matter of hours.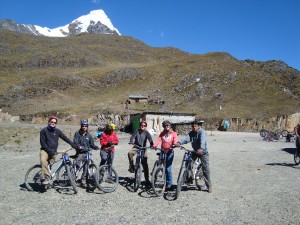 The next day saw us climb back up the next mountain along, with the sound of the Urubamba – no longer just a white line in the distance – raging all around us. It was an 8-hour slog up rainforested hills with regular stops in some of the tiny hamlets dotted around the mountain. At one point we found ourselves on part of the original Inca trail, a narrow path carved into the side of the mountain – which Incan envoys (called Chaksis) used to trot along powered by nothing but coca-leaves – with indescribable ambient beauty. At the end of the day we were rewarded with a dip in some hot geothermal springs to ameliorate our aching legs and later a trip to a discoteque in a flyblown little town called Santa Teresa.
Our guide, Abel, was excellent. He had such a patent love for his country and Quechuan heritage and such enthusiasm for his job that it was infectious. Every so often he would stop and say, "Here, try this". We had wildly growing oranges, tomatoes, avocadoes, papaya, lemon, some sort of lemon/orange hybrid, we saw coffee growing naturally and how the locals dry it in the sun before grinding into a powder, saw coca growing in plantations at precipitous angles in the hills, tasted natural chocolate, and painted our faces with a plant that is used cosmetics.
The third day was a 4-hour march along a railway line to Aguas Calientes, the base town for Machu Picchu and a town which seems to exist solely to fleece as much money as possible out of the abundant American tourists. After lunch Abel offered us a ´challenge´, a climb up a nearby mountain, Putucusi. To aid climbing, Putucusi has wooden ladders attached to its sheer faces. After climbing these for about half-an-hour solidly we had a further hour-and-a-half of rocky steps, in total an ascent of 800 metres, before we flopped onto the summit. But it was worth every drop of sweat. There, atop a neighbouring mountain, about 400m away, glorious in the rays of the setting sun, was Machu Picchu, the ancient Incan city. It was such a powerful and moving sight, these perfect grey ruins so high in the jungle-covered mountains, that we stayed for about an hour staring at it.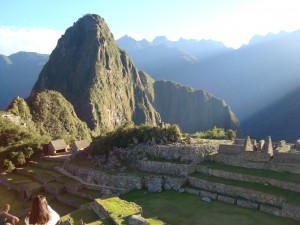 And the final day was to be our trip to Machu Picchu. We awoke at 4am to ensure we were one of the lucky 400 tourists who daily get to climb Waynu Picchu, the taller mountain that looms behind Machu Picchu in the archetypal photograph. Before we did this we had a guided tour round the Incan city itself. The place did not disappoint, it was absolutely mindblowing to be wandering around this perfectly preserved 5-centuries-old Incan settlement, clambering through royal chambers, temples of worship and guardhouses, or watching llamas prance over the terraced agricultural steppes. Surrounding us on all sides were granite and green peaks that reminded us just how high up we were. The structures themselves are phenomenal, huge granite blocks are cut to such size and shape that they tessolate perfectly and sit without mortar. They are tapered at the edges to give the impression that they're bulging out of the walls, which are built at an angle designed by Incan artisans to be seismic proof. Testament to this is the fact that they're still standing after at least 2 earthquakes which have devastated Spanish built settlements.
We saw the sunrise at Machu Picchu and, it being days from the winter equinox – all Incan towns were built according to the two equinoxes – it rose perfectly behind the highest peak in view so that a shaft of light was beamed out from each side like the wings of an angel. Later we hauled ourselves up to Waynu Picchu for yet another astounding view of the city, this time from above, before pounding our tired feet all the way back to Aguas Calientes and finally to Cuzco for a well-earned rest.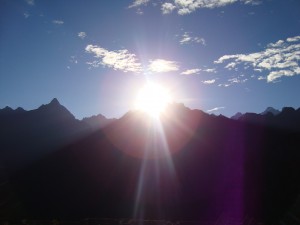 Cuzco, renowned for its festivals, is at the moment is building up to the biggest fiesta of the year, which makes it a very interesting time to be here. Every day we've seen colourfully loud street parades replete with sonorous trombones and booming bass drums, traditional dances, intricate floats and hordes and hordes of people. One day we were sitting in the Plaza de Armas, minding our own business, when thousands of chanting protesters marched in and surrounded us (there is a lot of civil unrest going on here at the moment)! Unfortunately we won´t be here for the actual festival because we´re getting the bus to Arequipa tonight, although we have to take an extended, circuitous route because – you guessed it – there's another road block! (This is the third one that has hampered our travels now, even by South American standards that´s pretty unlucky!)
Oh, and to top off a good week, I did a bungee jump! At 122 metres the highest in all the Americas (including the super-sized States). It was terrific, and I screamed like a girl!