East is East and West is West and never the twain shall meet. Well, Kipling never went to modern Istanbul, where not only did they meet, they exchanged numbers and arranged to hook up again. This is the city that famously straddles the continents, where the Bosphorous separates Europe from Asia. The flight in was one of those rare occasions where I had a window seat and could actually see something worth seeing: we flew in from the Asian side and could see the city laid out below like a pop-up map; cargo ships and cruise liners leaving frozen white plumes in the mighty Bosphorous, the European coast split in two by the Golden Horn, and the Blue Mosque, Aya Sofya and Topkapi Palace clearly visible on its southern end. The plane dived down behind the red roofs of the cuboid suburbs and, for the first time since the Trans-Siberian passed a nondescript marker somewhere in the Urals, we were back in Europe.
On first impressions Istanbul is very much in the mould of a southern European city, all cobbled streets and kerb-side dining, well kept gardens and fountains. But then there are the mosques, the muezzin call to prayer, the food carts, bazaars, street dogs and the pavement prospectors that give it that unmistakably Eastern feel.
Our hostel was in Sultanhamet, practically in the shadow of the Blue Mosque and Aya Sofya. The latter, unprepossessing from the outside, is described as one of the world's great buildings from within. Previously the Church of the Divine Wisdom until the Fall of Constantinople in 1453 (interestingly, we call it the Fall but in the East it is called the Conquest) when it fell into the hands of the Islamic Ottomans. They hastily ditched any Christian relics and plastered over the mosaics of Christ, Mary and all that mob and it remained a mosque until 1931. In 1935 it was re-opened as a museum, after the Christian mosaics had been uncovered. The result is a wonderfully unique place where mosaics of Jesus hang beneath a roof of Islamic inscription and arabesque. A fitting metaphor for the city itself.
In the mild evenings we visited such Istanbul institutions as the Mesale Cafe – where light-footed waiters spring about with trays of tea, a whirling dervish spins to live Turkish music, and the evocative smell of apple tobacco mists through the air – and the Pudding Cafe, where Sixties' hippies would meet to arrange transport to Nepal overland through Iran and Afghanistan (such a shame that is no longer an option!). We also watched the sun set from the Galata bridge, where rows of fishing rods hang out over the Golden Horn, catching fare for the lively fish market beneath the bridge where floating kitchens serve up fried fish in bread rolls. As the sun sets, from the bridge you can see the silhouettes of the many mosques of the city, proudly hanging the red star-and-cresent-moon flags, and this is when you really get the impression of this place being the gateway to the East.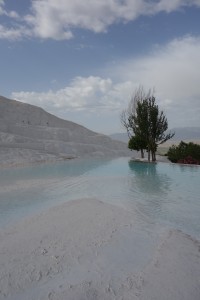 A quick overnight bus trip and we were in the village of Pamukalle, where people come to see the otherworldly travertines at the base of which it sits. These are deposits of white calcium seemingly poured over the mountainside like congealed paint, and baked hard by the sun over the millennia. A constant trickle of water gleans over them and light blue paddling pools have formed a kind of natural water park. As an added bonus there are the ruins of a Byzantine (think Roman) town above the travertines. Much of the masonry has been piled back up into a semblance of its former glory but some remains just where it tumbled thousands of years ago and there is an impressive amphitheater with astounding views of distant snow-patched mountains. Several Japanese tour groups got there early – like us – to avoid the crowds, not realising that they are the crowds; but we were at least spared the hordes of speedo-sporting Russians that turned up as we left.
Oludeniz next. On the dolmus bus in we passed the package holiday heaven/hell of Hisaronu with its profusion of fish 'n' chips, Sky Sports and flabby white stomachs belonging to men from the north of England. Thankfully Oludeniz was a little better. Still very much Anglified; fry-ups and Strongbow abound, and you can even pay in pounds in some places (a little sneaky, thoughts I, as the Turkish riots had caused the lira to plummet that very day). But you can forgive it when you see the shockingly blue sea pounding the beach and the stunning mountain backdrop. "Why would you come on holiday just to eat fry-ups and kebabs?" we joked derisively, before going to have a fry-up and a kebab. We felt a little like outsiders though, the poor relations camping in the 2-man tent, so eventually decamped to the nearby port town of Fethiye, from where we picked up our Blue Cruise.
A Blue Cruise is a 4-day sailing trip on a yacht (or gulet) where all your food is provided so you've nothing to worry about except relaxing and enjoying the scenery. And what scenery! Classic Mediterranean: a leaden blue sea, deep green forested mountains and picturesque port towns providing a splash of terracotta and white; rocky islets and outcrops sprinkled with the remains of ancient churches, castles, Lycian tombs and even an entire sunken city subsumed by, yet still visible through, the clear water. We enjoyed a blissful 4 days on the gulet, and were dropped in Olympos.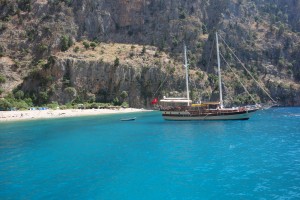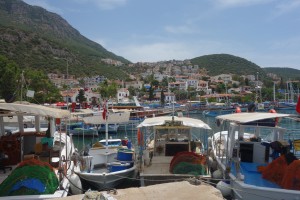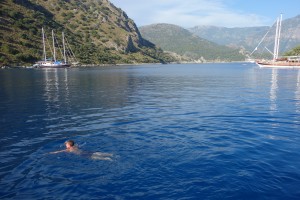 Olympos is a fantastic little backpacker town, a city of tree-houses hemmed in by rocky bluffs that loom above a pine forest. Our lodging was a sequestered wooden shed, high on stilts, with nothing but a window and a mattress. Our fellow Blue Cruisers, fresh off the luxury boat, balked at the rooms but "hah", we said loftily, "this is nothing compared to India." And with breakfast and dinner thrown in, we treated it as a dry-land continuation of the cruise. The town is built around – predictably – more ruins. But this time ancient Greek ones that are so old they seem to have almost returned to the forest, so they carry a mysticality not unlike Angkor Wat. Eventually they open up onto a rangy pebble beach where we spent time topping up our tans in between lazy afternoon drinking sessions with the countless Ozzies in the town.
After a couple of unremarkable days in Antalya – a clean modern city with a clean, ancient-cum-cosmopolitan heart – we headed to Cappadocia, to a town called Goreme. The draw here is the spellbinding landscape, these incredible phallic rock formations that have been fittingly named fairy chimneys. Hundreds of them spear upwards like giant mushrooms, and most have been carved into dwellings. Some you can visit where the interior has been assiduously hewn into churches, replete with arches, apses and domes, all painted in unweathered frescoes. The first two or three are breathtaking but we'd had enough after about ten so arranged to go on a short trek into a nearby valley.
It didn't take us long to realise that our guide, nephew of the owner of the guest house, was not a guide at all. More of a young, urban type, he strode on ahead, little concerned if we were keeping up or not, smoking and chatting busily away about his love life, drunken exploits, traffic accidents. He invited us on an illicit late night vodka binge. He confided, with echoes of that Monty Python sketch, "I never wanted to work in a guest house, I wanted to be a hairdresser" and then flung his empty plastic bottle in a bush. At one point he stopped abruptly and we thought he was about to finally impart some local knowledge. We followed where he was pointing, "French people!" he grinned, and then "bonjour!"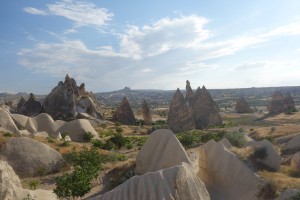 Inevitably we were soon lost and our guide took to asking us if we knew the way. We were trying hard not to laugh. Eventually he collared his mate into picking us up and taking us to our intended destination, a sunset viewpoint. On the way he made us stop at an off-license where his boss unexpectedly walked in, perplexed that we were in a booze shop when we were supposed to be on a walking tour. When we arrived at the sunset viewpoint with a carrier bag full of beer cans and a drunk guide we felt less like part of a tour and more part of some teenage misadventure! He was a good lad though. Terrible guide but a good bloke, and we sat up into the wee hours talking with him.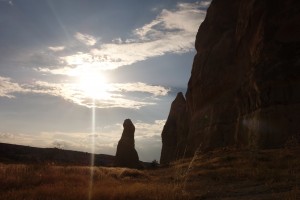 And that concludes our whistlestop tour of Turkey. Such an amazing country, a land of mountains and minarets, ostensibly European until you hear that mournful wailing of the muezzin and get the fleeting sensation that you're deep in the Middle East. We fly to Europe proper now though, to Sarajevo.