The plane from Calcutta landed at the sleepy airport on Port Blair, the capital of the Andaman and Nicobar islands, 1300km east of mainland India. We were waved lazily across the runway to the small terminal from where we jumped in a tuk-tuk to the jetty so we could catch a boat to Havelock Island, our destination. We queued for 3 hours in the boiling sun only for a load of Indians to push in at the last minute and take the few remaining tickets. How we muttered and scowled, but Indians have no concept of queuing, so we ended up having to stay the night in Port Blair. A sweaty walk around the busy, noisy port town confirmed that this was not the paradise we'd been promised.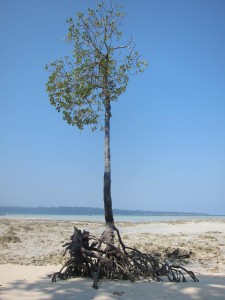 But the next day we did get a ticket for the boat, and off we sailed to Havelock. We arrived at night and the very next day was the annual Hindu festival of Holi. For weeks we'd been asked by other backpackers "so, where are you spending Holi?" in a manner that inferred their new found Hindu devoutness. "I dunno," we'd shrug. "What is it?" What it is, is a wonderful, colourful celebration of something-or-other that involves covering one another in different coloured powder paints. The streets were lined with Indians, some with water guns filled with pre-mixed paint, some with tubs of powder, others with vats of narcotic milkshake. People would approach, paint your face, dump or fling handfuls of powder, shoot the paint guns at you, give you a hug and shout "Happy Holi!" Nobody was exempt. Eventually everybody congregated in the town where there was a speaker pumping out music and yet more of the riotous explosions of colour. Everybody was covered head-to-toe, clothes ruined, laughing, dancing, throwing paint. Absolutely magical, and one of the defining moments of our time in India.
With Holi over we settled into island life. I can't really stress just how mind-blowingly beautiful Havelock Island is. Initially we were aghast at the fact there was no Internet access, no hot water, and only one place that sells alcohol but soon came to realise that this sleepy seclusion is precisely the charm of the Andaman Islands. The calm ocean is a bright turquoise colour and laps at pristine beaches whose silky white sand creeps beneath overhanging jungle canopy. There is a single narrow road on the island and the main town is a dozen or so tin-roofed shacks with a covered fruit market. We stayed in a garden of wooden huts amidst bow-trunked coconut trees and their perpendicular betel-nut cousins and rented a little moped to get us into town or to the other beaches. Contentment settled on us like a disease.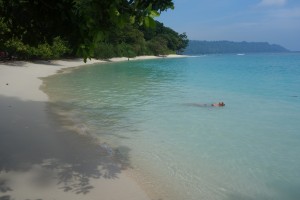 First of all we bought some Marmite – a palliative to home-sickness – off of a West Country lad we befriended. And then we bought the only thing you really need on this island – a hammock. Because the beaches are completely deserted – no hotels, no sun loungers, no hawkers, no umbrellas – and the boughs of the trees have grown horizontally over the sea, all you do is find a suitable branch from which to string up your hammock, and then climb in. Often the tide will come in and you'll find yourself swinging in the breeze with nothing but the crystal water gurgling beneath. Hours were spent just gazing out to sea. As the tide receded we'd lay in warm shallow pools left between the coral until our skin wrinkled.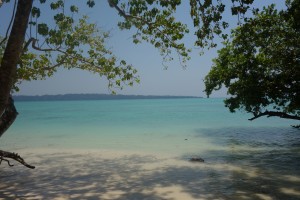 It would be dark by 6pm so we'd stroll to one of 2 nearby restaurants that sold some of the best food we've had in India. By the time we'd eaten there'd normally be some sort of gathering around one or the other of our huts, and then perhaps we'd hear whispers of a party in a different resort so we'd all decamp, enormous bottles of rum in hand. It's what you'd describe as a quiet social scene, in keeping with the environs.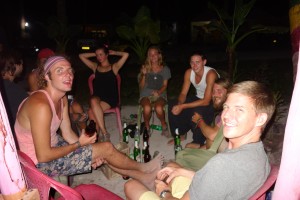 Havelock is completely unlike anywhere else in India. It's peaceful, becalming, heavenly, unspoiled, and it's a marvel that destinations like this still exist in the world. Back in the hubbub of New Delhi, staring through a subway window we wonder if it happened at all. The only proof we have is a suntan and a well-worn hammock strapped to my rucksack. The Marmite, like our allotted time in paradise, is gone.